Test Drive: 2020 Kia Sedona SX Tech
June 24 2019, Stephanie Wallcraft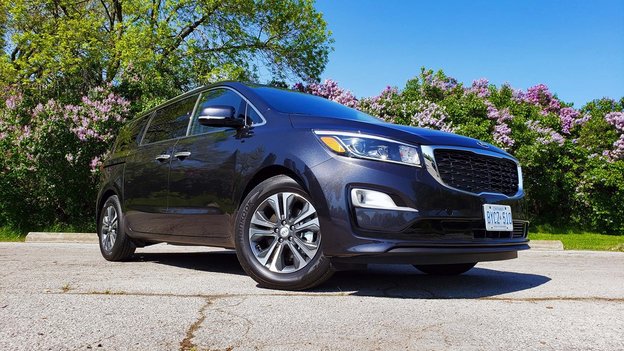 As far as the Sedona's comfortable seats and spaciousness go, consider me impressed. On that three-hour drive I mentioned, we shoved a 6'4" trooper of a man into the third row for the duration. Not only did he not complain, he claimed he was downright...
Shopping for a minivan? Can't say I blame you. They're generally more spacious, more affordable, and more user-friendly for families than the similarly sized SUVs that are currently in vogue. The 2020 Kia Sedona doesn't have some of the features that tend to draw people to this segment, like second-row seats that fold into the floor, or an on-board vacuum. It also doesn't come with all-wheel drive – if that's important to you, the Toyota Sienna is your only minivan option. But the Sedona does offer plenty of style, usability, and build quality at a relatively reasonable price.
Styling: 8/10
Of the minivans currently on the market, I rank this as one of the most handsome. The front face is stylish and proportionate, and the side is kept tidy with clean lines. The one thing that detracts from it is the track for the sliding door, which Kia hasn't yet disguised in the rear window as other automakers have. The interior is similarly attractive, using layers of varying materials and stitching in a classy layout that conveys a sense of quality.
Safety: 7.5/10
The Sedona can be equipped with a number of safety features, but you'll need to pay more for most of them. The 2020 Sedona has a significantly streamlined set of trims over last year's version, and the SX trim represents the least-expensive way within the lineup to get blind spot detection and rear cross-traffic alert, priced at $40,490 with delivery fees. There's a longer list equipped on this top-of-the-line SX Tech model, including lane-departure warning, driver attention warning, automatic high-beams, forward collision avoidance, and active cruise control with stop-and-go. Getting those features will cost you $3,100 more.
Practicality: 8/10
Any minivan is automatically toward the top of the most practical vehicles you can buy. The Sedona stands out for its easily movable second-row seats that give access to third row, which drop with relatively low effort. However, it doesn't get an exceptionally high score here because it's missing some of the features that make some competitors truly excel. Some people really love an on-board vacuum, for example – although with so much space in the back, it wouldn't be terribly difficult to carry a handheld around.
But the kicker is that to access the entire 4,022 litres of cargo space behind the first row, the second-row seats need to be removed and stored. FCA's minivans are the only ones with second-row seats that fold flat into the floor, but they sell as well as they do for good reason.
Read the Full Review on AutoTrader